Ross Lynch: Gay Story 1
Comments

260
169pages on
this wiki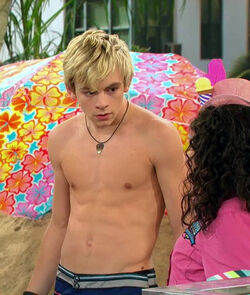 To prove Ross Lynch is gay.
Ross Lynch: Gay Story Part 1
I was at an R5 concert in Michigan and after, I saw them performing their song "Loud", and Ross Lynch stared at me with his sparkling brown eyes, his hair flipped the right way, he was wearing a white see threw shirt with dark blue jeans, and then he looked at me singing.
After, I Joe felt very weird because Ross was just looking at me singing, and not looking at anyone else. It was kind of a turn on becuase I'm gay, and Ross' see threw shirt showed off his awesome abs, which is very atractive. Then I went backstage to see the band. Ricky and Rocky came over and said hi to me and showed me everything backstage, then I saw Ratliff, and Rydel and later saw Ross drinking some water while staring at me with a flirtish smile. He then came over to me and led me to his dressing room.
Ross said, "So did you like the concert." My reply was yes. Ross still kept staring at me in his dressing room the other band members were leaving but Ross and I decided to stay for now. Ross said, "Can I ask you something?" I replied, "Sure, but I have to tell you I'm gay." Ross then came up to me and kissed me on the cheek. My heart raced and I was in shock at the moment, until I finally said, "What was that?" Ross said, "I'm gay." After, that had blew my mind. Ross then started to take off his shirt and showed his incredible abs and told me to take off my shirt and pants and underwhere while he took off his jeans and underwhere. Then we started having sex together.
I was confused at first, so then I asked if he was really gay. He replied with a yes, even though I thought he was girl crazy, but I guess not. The two of us were about 2 years apart but I didn't care he was now the love of my life and now were dating and I don't want him to leave me and he said he won't. When we were done with sex he drove me to a hotel so we could have more alone time together. Ross still looked hot with his clothes on and then Rocky came in with Riker and they were both also gay, but me and Ross were having sex again.